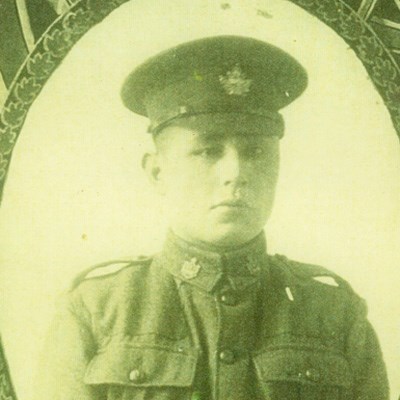 1896-10-12
Farmer
Roman Catholic
1941-08-14
Died while in service
Service Record 1
1918-10-10
Gun shot wounds to left arm
Cambrai, France
Service Record 2
Service Record 3
Artefacts, Photographs & Resources
Visit the Bruce County Museum & Cultural Centre's Online Collections, through the link below, for more resources related to this soldier.
Online Collections Link
Sources & Links
a) James, F. Treve & Thomas Johnston, eds. "Bruce in Khaki containing a History of the 160th Overseas Bruce Battalion and Complete Nominal Roll of all Men who were at any Time on the Strength of the Battalion." Chesley: James & Johnston, 1934. Print.;
b) Article: Pte. Solomon : The Fred Dumin, Fred. Veterans' Guard of Canada, and the Memorial Cross. Military Collectors Club of Canada Journal, 17.4 (1980) 13-25.
- Library & Archives Canada
News Clippings
Solomon page of nominal roll in "Bruce in Khaki"
160th Battalion Enlistment card
Canadian Echo Wiarton, January 8, 1919