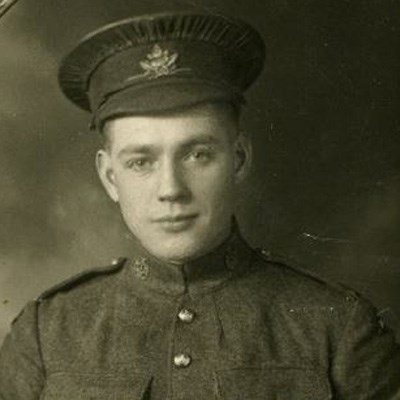 Name
Private Charles Arthur Reed
1894-07-14
Salesman
Methodist
1974-11-09
Service Record 1
651593
Private
1916-01-31
1918-03-28
Service Record 2
651593
Private
1918-03-28
1918-10-10
Gunshot wound to right hand
Valenciennes, France
1919-03-22
Demobilizaton
Artefacts, Photographs & Resources
Visit the Online Collections of the Bruce County Museum & Cultural Centre through the link below, for more information and artefacts related to this soldier.
Online Collections Link
Notes
Charlie was the son of Arthur and Bella Reed of Eden Grove. He enlisted in the 160th Bruce Battalion, and then, along with most of the 160th, joined the 18th Battalion. In France, he was a runner for headquarters staff. He carried messages under fire during the fighting at Amiens, Arras and Cambrai. On October 10, 1918, he was attempting to deliver a message to an advance company which had gone over the top, when he was hit by gun fire from a sniper, striking his hand and going clear through his finger. As he lay perfectly still, the German, after firing another shot, left him for dead. Charlie afterwards crawled on and, in spite of his wounded hand, succeeded in delivering the message. He was recommended for a Military Medal, but never received one. On going to the hospital, Charlie contracted the flu and trench fever and never got back to the lines again. Charlie was known as the Rawleigh man around home, being on the road for that firm for over two years before enlisting. He returned home to help his father (who had moved) on their farm, 2 miles southeast of Fergus.
Sources & Links
a) James, F. Treve and Thomas Johnston, eds. "Bruce in Khaki containing a History of the 160th Overseas Bruce Battalion and Complete Nominal Roll of all Men who were at any Time on the Strength of the Battalion." Chesley: James and Johnston, 1934. Pri
b) Royal Canadian Legion, Ontario Command. "Military service recognition book, volume IV." Fenety Marketing, 2017. Print.
- Library & Archives Canada
News Clippings
Witley Culmer Corner postcard, front
Oct. 1, 1917 postcard, front
Feb. 4, 1917 postcard, front
Feb. 4, 1917 postcard, back
Oct. 1, 1917 postcard, back
Field service card
Nov. 5, 1916 postcard, front
Hollycomb House postcard, back
The Red Lion postcard, front
Hollycomb House postcard, front
Sept. 12, 1916 postcard, front
Sept. 12, 1916 postcard, back
Nov. 11, 1915 postcard, front
May 24, 1918 postcard, back
May 24, 1918 postcard, front
Red Lion postcard, back
Dec. 10, 1916 postcard, back
Nov. 5, 1917 postcard, back
Nov. 5, 1916 Darling postcard, front
Nov. 5, 1916 Frith Hill postcard, front
Badges and Pins
Charles Reed
Dec. 10, 1916 postcard front
Nov. 5, 1916 Darling postcard, back
Witley Culmer Corner postcard, back
Nov. 5, 1916 postcard, back
Charles A. Reed, at Bramshott Camp
Discharge Certificate, 1919
Letter to mother, p. 1
Letter to mother, p. 2
Charles Reed, 1915
Jan. 25, 1917 postcard, back
Jan. 25, 1917 postcard, front
Nov. 11, 1916 postcard, back
Ed Zimmerman, Charles Reed, and two girls from Glasgow postcard, Nov. 11, 1916
Charles Reed and unknown soldier
160th Battalion Enlistment Card
Paisley Advocate – April 9, 1919