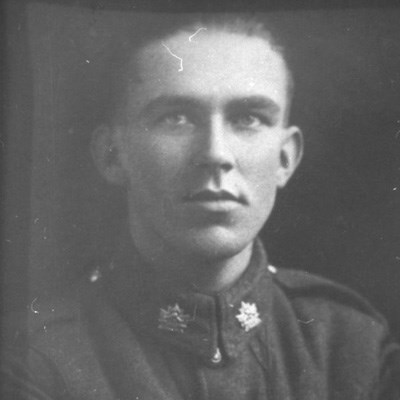 Name
Private Chester Archie Cunningham
1896-08-30
Enniskillen, ON
Bookkeeper
Wesleyan
1918-02-14
Killed in Action
1.Walkerton Cemetery, Brant Township (Plot # 1485.5 Row 6 Section E). 2.
Walkerton Cenotaph
Service Record 1
Service Record 2
Service Record 3
127348
Private
10th Canadian Infantry Battalion
1915-10-13
Artefacts, Photographs & Resources
Visit the Online Collections of the Bruce County Museum & Cultural Centre through the link below, for more information and artefacts related to this soldier.
Online Collections Link
Notes
Remembered on the family stone, Walkerton Cemetery: Chester A., son of Thomas & Isabella Cunningham, fell in France Feb. 14th 1918 aged 23 yrs.
Sources & Links
a) McLeod, Norman. "The History of the County of Bruce 1907-1968", vol 2, Bruce County Historical Society, 1969. Print.
b) Royal Canadian Legion Branch 102, Veteran's Commemoration Album (AX2015.013.003); c) Bruce Remembers Feedback - Walkerton Legion list - March 2021;
d) "Walkerton Public Cemetery (257) Branch Veteran's Photo Gallery & Veterans of WWI & WWII that moved into the Community" BCM&CC, A2022.003.001.
- Library & Archives Canada
- War Graves Commission
- Book of Remembrance
- Canadian Virtual War Memorial
News Clippings
Walkerton Herald and Times
Bradley Community Centre plaque
Walkerton Telescope, March 21, part 1
Walkerton Telescope, March 21, part 2
Walkerton Telescope, January 18, 1917
Walkerton Telescope, March 22, 1917
Walkerton Telescope, April 19, 1917