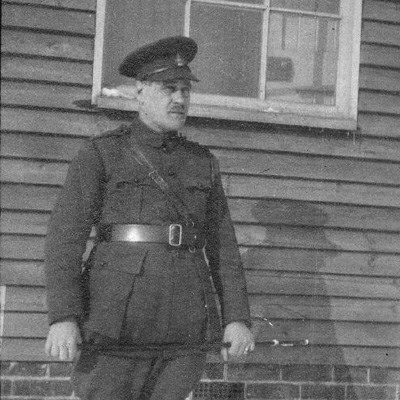 1889-05-26
Minister
Methodist
1971
Hamilton, ON
Mentioned in Dispatches, June 22,1915, St. Julien
Service Record 1
6771
Captain
Enlistment /Transfer Date
15-09-1915
1915-04-27
Gunshot wound to the head
France
Service Record 2
Captain
Enlistment /Transfer Date
1916-08-12
32nd Regiment and 1st Battalion
1919-08-28
Demobilization
0
Artefacts, Photographs & Resources
Visit the Online Collections of the Bruce County Museum & Cultural Centre through the link below, for more information and artefacts related to this soldier.
Online Collections Link
Notes
First enlisted September 15 1914, served with the 1st Battalion France 1915, Returned to Canada 1916 to accept commision in 160th, returned from England 1917 for training MSA men
Sources & Links
James, F. Treve and Thomas Johnston, eds. "Bruce in Khaki containing a History of the 160th Overseas Bruce Battalion and Complete Nominal Roll of all Men who were at any Time on the Strength of the Battalion." Chesley: James and Johnston, 1934. Print.
- Library & Archives Canada
News Clippings
Milton Aiken on right, Chesley 1916
Pages 68-69 from Bruce in Khaki, Vol. 1, No. 5
160th Battalion, 1917, from Walkerton Herald-Times, July 5, 1934
160th Kodak Club Programme, 1916, page 3
Postcard, Charles Reed to J. Davis mentining Lt. Aiken, 1916
Rev. M.J. Aiken obituary
Page 1, Christmas Day menu, programme & roster
160th Kodak Club Programme, 1916, page 4
Syllabus, Anit-Aircraft Artillery, 1947, page 2

Newspaper article, with quotes from Sergt. Aiken
160th Kodak Club Programme, 1916, cover
160th Kodak Club Programme, 1916, page 1
160th Kodak Club Programme, 1916, page 2
Syllabus, Anti-Aircraft Artillery 1947, cover
Letter, Dec 2, 1914, p. 1
Letter, Mar 3, 1914, p. 3
Letter, Dec 2, 1914, p. 3
Letter, Dec 2, 1914, p. 2
Letter, Jun 13, 1915, p. 1
Letter,Jun 13, 1915, p. 4
Letter, Jun 13, 1915, p. 5
Letter, Jun 13, 1915, p. 2
Letter, Jun 13, 1915, p. 6
Letter, Jun 13, 1915, p. 3
Letter, Apr 11, 1915, p. 2
Letter, Apr 11, 1915, p. 1
Letter, Nov 8, 1915, p. 1
Letter, Aug 11, 1915, p. 1
Letter, Nov 8, 1915, p. 3
Letter, Nov 8, 1915, p. 2
Letter, Jan 2, 1916, p. 2
Letter, Jan 2, 1916, p. 1
Letter, Jan 2, 1916, p. 4
Letter, Jan 2, 1916, p. 3
Letter, Jly 15, 1916, p. 2
Letter, Oct 1, 1916, p. 2
Letter, Oct 1, 1916, p. 3
Letter, Oct 1, 1916, p. 4
Letter,Oct 1, 1916, p. 1
Letter, Nov 5, 1915, p. 1
Letter, Jly 15, 1916, p. 1
Letter, Nov 5, 1915, p. 3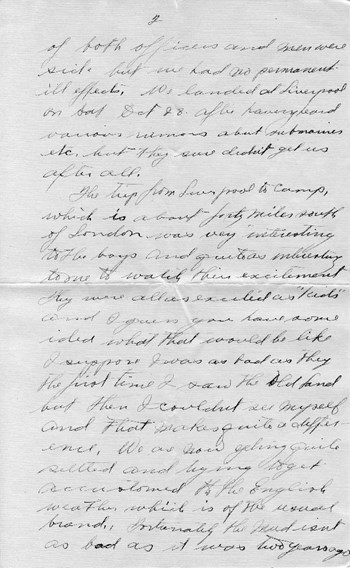 Letter, Nov 5, 1915, p. 2
Letter, Dec 15, 1916, p. 1
Letter, Dec 15, 1916, p. 3
Letter, Dec 15, 1916, p. 4
Letter, Dec 15, 1916, p. 5
Letter, Nov 5, 1916, p. 4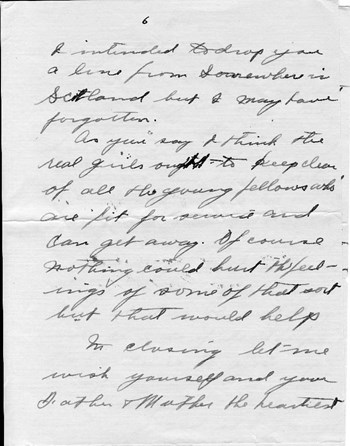 Letter, Dec 15, 1916, p. 6
Letter, Dec 15, 1916, p. 2
Letter, Feb 4, 1917, p. 1
Letter, Dec 15, 1916, p. 7