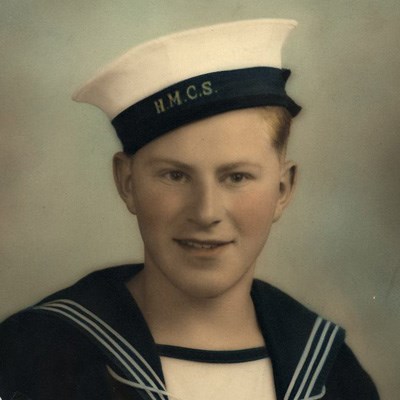 Name
Norman Rule McGregor Mitchinson
1919-09-14
2008-08-22
Mentioned in Dispatches for actions at the Combined Opertions Raid on Dieppe. He was also presented to HRH Queen Elizabeth and was one of the first recipients of the Ontario Medal of Good Citizenship.
Service Record 1
Artefacts, Photographs & Resources
Visit the Online Collections of the Bruce County Museum & Cultural Centre through the link below, for more information and artefacts related to this soldier.
Online Collections Link
Notes
Served on H.M.C.S. Skeena. Norman was one of only a few Canadians to have participated in six major invasions of the Second World War: Dieppe, North Africa, Sicily, Italy, D-Day (Normandy) and Southern France.
Sources & Links
- Bruce County Genealogical Society Surname Collection
- Find a Grave
News Clippings
Norman Mitchinson Dieppe letter, newspaper clipping
Norman Mitchinson
LS Norman Mitchenson (Front 2nd from L)
Norman Mitchinson Dieppe letter, newspaper clipping
Military Patch
Identification Tag
Hat