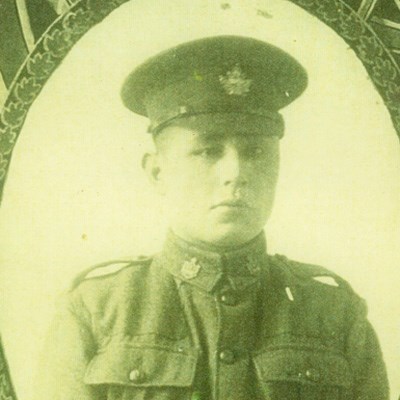 Name
Private Matthew Solomon
1896-10-12
Farmer
Roman Catholic
1941-08-14
Died while in service
Find more people
Service Record 1
1918-10-10
Gun shot wounds to left arm
Cambrai, France
Service Record 2
Veterans Guard of Canada
1940
Service Record 3
Online Collections
Visit the Bruce County Museum & Cultural Centre's Online Collections, through the link below, for more resources related to this soldier.
Online Collections Link
Sources & Links
a) James, F. Treve & Thomas Johnston, eds. "Bruce in Khaki containing a History of the 160th Overseas Bruce Battalion and Complete Nominal Roll of all Men who were at any Time on the Strength of the Battalion." Chesley: James & Johnston, 1934. Print.;
b) Article: Pte. Solomon : The Fred Dumin, Fred. Veterans' Guard of Canada, and the Memorial Cross. Military Collectors Club of Canada Journal, 17.4 (1980) 13-25.
- Library & Archives Canada
Stories & Artifacts
This section, including captions, is a work in progress, with an expected completion date of Dec. 31, 2019. Please contact us with any questions about these images: archives@brucecounty.on.ca; 519-797-2080.
Matthew Solomon Mandawoub
p85, Matthew Solomon, John H. Yahba, David Mitchell
Bruce in Khaki book
Solomon, Matthew
Solomon page of nominal roll in "Bruce in Khaki"
160th Battalion Enlistment card
Matthew Solomon Mandawoub
Matthew Solomon, John Henry Yahba, David Mitchell