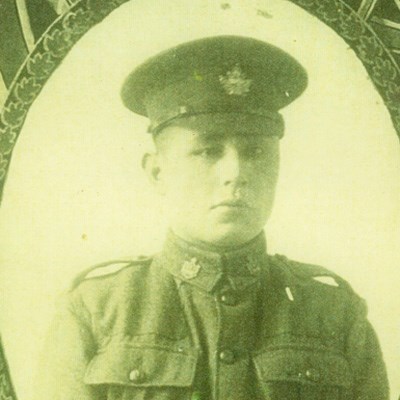 Name
Private Matthew Solomon
1896-10-12
Farmer
Roman Catholic
1941-08-14
He died while in service with the Veteran's Guard of Canada.
Find more people
Service Record 1
Gun shot wounds to left arm
Cambrai, France
Service Record 2
Veterans Guard of Canada
1940
Service Record 3
802504
Private
1915-12-28
/ elbow
Notes
Councillor 1927-1934
Sources & Links
Bruce in Khaki: A History of the Bruce Battalion
Article: "Pte. Solomon : The Fred Dumin, Fred. "Veterans' Guard of Canada, and the Memorial Cross." Military Collectors Club of Canada Journal, 17.4 (1980) 13-25.
- Library & Archives Canada
Stories & Artifacts
This section, including captions, is a work in progress, with an expected completion date of Dec. 31, 2019. Please contact us with any questions about these images: archives@brucecounty.on.ca; 519-797-2080.
Matthew Solomon Mandawoub
p85, Matthew Solomon, John H. Yahba, David Mitchell
Bruce in Khaki book
Solomon, Matthew